Do masks "work"? We keep hearing that term thrown around by the politicos, talking heads, and media nags, but they never bother to define it. There is a reason for this. The reason? Equivocation. Equivocation is the deployment of ambiguous language so that one may never be called out for inaccuracies. If a word can have multiple meanings then you can safely call up whichever meaning gets you your get of jail free card. So when they say "masks work" what they are factually referring to is the ability of a properly fitted N95 mask to offer limited utility in limited situations for a limited duration. But they don't mention those details. Rather, they reference that term without context in order that you the listener (or reader) will assume the discussion relates to the policy, not science, position regarding masks. Namely that they have been shown to effectively halt or diminish the rate of infection and death among populations that deploy them universally. This belief, however, is not supported by empirical evidence. Positive claims such as these (X does Y) are subject to the scientific method because they are falsifiable. That means it is possible to conceive of an experimental outcome that would not support the claim. For example, scientists once thought that electromagnetism travelled through a medium known as the ether. Experiments were done that supported the claim. Then one day an experiment was done that did not (Michelson-Morley). That one experiment overturned the entire theory of the ether. That is how falsifiability works. It does not matter if you have a thousand studies that support your claim. It only takes one piece of empirical evidence that does not and that claim is void or must be adjusted to conform to the new evidence. 
            This is the situation with "masks work." Yes, the New York Times may cherry pick some locality that introduced masks followed by declining "cases" (I'm looking at you selectively charted Kansas counties). They may even find dozens of those. But we only need one that doesn't conform to the narrative (all things equal). We have hundreds (numerous examples can be found at twitter.com/yinonw and here). But I'll share just a couple of the most damning ones here.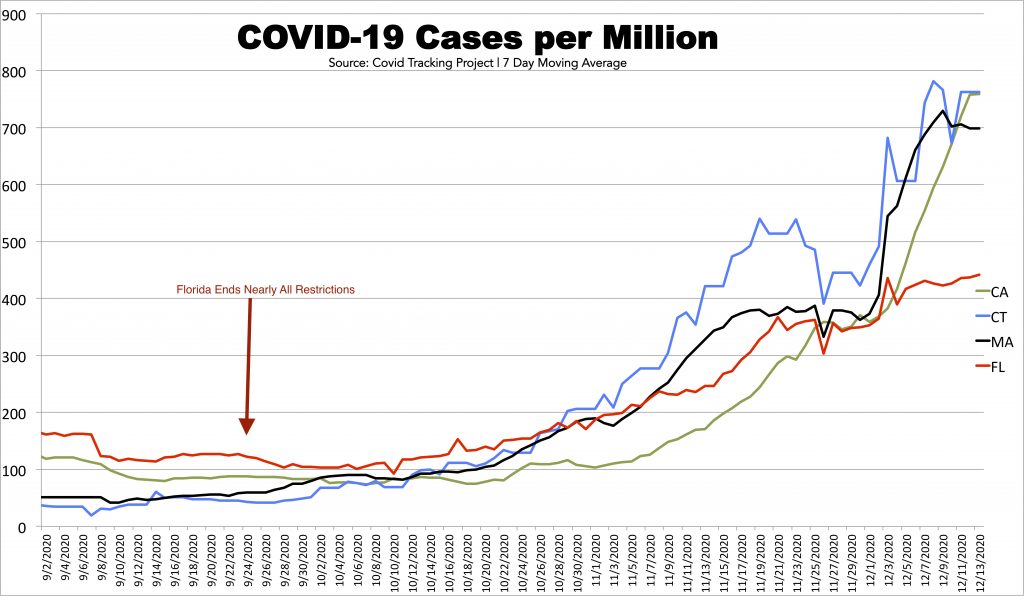 Connecticut (97%), Massachusetts (97%), and California (94%) all have had continuous mask mandates for the chart period (compliance rate%). Florida (89%) ended theirs at the point shown. If you weren't told could you pick out the state with no societal restrictions (masking, gatherings, school, sports, etc.)? Not only did cases rise among all four, they rose concurrently. That seems like an odd coincidence for such geographically disparate locales (Northeast, West, and South). Almost like the virus follows a well-established seasonality profile that is invariant to our various mitigation measures. And to be fair we can see that even though there is no state mandate in Florida the masking rate is still quite high (89%) in Florida (86% in Georgia for the curious). But this still doesn't really help the masks work camp; all four states are rising (indeed the more compliant masking states are rising faster). There is simply no correlation of the proposed measure with the desired outcome. You may claim crowing roosters cause the sun to rise and cite numerous correlated examples; but I only have to provide one example of the sun rising in silence to settle that argument.
            If the masks "worked" then the "cases" would remain at baseline noise and never rise. Or would rise in some clear relationship between mask compliance rates and cases. Not even that is seen. Clearly something else is at work here. Clearly the masks are not having the effect that the "experts" tell us they should. At this point the masks serve no other purpose than as an externalized reminder from the state that we are in a self-made "crisis" that only the state can save us from. That's quite convenient. But for the masks we would be unaware of anything amiss. A true crisis doesn't require daily reminders that there is in fact a crisis. Ask yourselves then, why does this one?